Don't get cold when you're out riding in the early months of the year. Here we will explain briefly how to layer up and choose the right winter cycling kit. There's nothing wrong with being a fair weather cyclist and the attraction is obvious. However, riding in cold and even wet weather with the right kit, can be perfectly comfortable too. The secret to all year round cycling kit success, both on or off road, is layering. What every cyclist needs to do is dress in a way that can deal with constant changing conditions.


After the obvious which is a good base layer, which can be short or long sleeved depending on conditions or your personal preference we move to bib shorts or bib tights. In both cases, bib shorts or bib tights with full shoulder straps offer a far more secure fit than old fashioned waist garments, which generally can dig in around the midriff. Forget about the practicality aspect of them for a moment and the "oh, what if I need to use the toilet?" These items, fit correctly and snuggly will offer unmatched comfort while out on your ride in already cold and miserable conditions. Bib tights are great for keeping the legs warm but might feel a bit too much on a slightly milder day. If you're a mountain biker and don't go in for the full lycra look, wearing your Enduro shorts over bib tights will reap the comfort benefits and warmth without from typical roadie styling ques.

The final garment in your first stage of layering is the cycling jersey of course. You may well have a vast collection of short sleeve jerseys from your summer collection. These can definitely be worn in winter as part of your layering system, although if it's looking like a very cold day ahead, a long sleeve roubaix jersey is more likely a better option.
Next though, we come to our first clothing decision. You've opted for your bib shorts and short sleeve jersey because the forecast is hinting at slightly warmer temperatures later in the day, but right now it's pretty nippy outside. What do you do? The answer, arm and leg warmers. Arm and leg warmers are not expensive and a must have in any cyclists wardrobe. They can be easily rolled up and carried in you jersey pocket, and are an extremely handy option for changeable temperatures.
So far, all the kit we've looked at will suit reasonably fair weather rides. In very cold and poor wet weather, though, we'll need other layers on top of our jersey, bib tights and base layer. 
The first of these options is a gilet. A gilet, essentially is like a light jacket with no arms, rather like a body warmer. It keeps the torso warm and in particular protects from wind chill. They are often made from a windproof material and can easily be rolled up and stored in a jersey pocket when not needed. In scenarios where you aren't too concerned about arm warmth or complete waterproofing, gilets offer the most convenient added layer. 
Modern waterproof jackets are better than ever. You can get them in a range of styles and fits to suit your needs. Generally though, with their longer tail flaps, they stop the back of your bib tights or bib shorts becoming uncomfortably wet from wheel spray. A must have though is a jacket with rear pockets, an additional waterproof pocket and most importantly...some reflective details for visibility. This will form your outermost layer while on the bike.
Nothing has the ability to create so much discomfort and pain on the bike then wet and cold hands and feet. On your hands, swap the fingerless mitts for full finger winter gloves. Make sure they have good thermal insulation and fit nice and snug so you have total control over the bike. 
Then, on the feet, use overshoes to help keep the toes warm and prevent any water getting into your shoes. If you have ever found yourself in that situation wishing you'd put your gloves or overshoes on before a ride, you'll realise why they are worth every penny.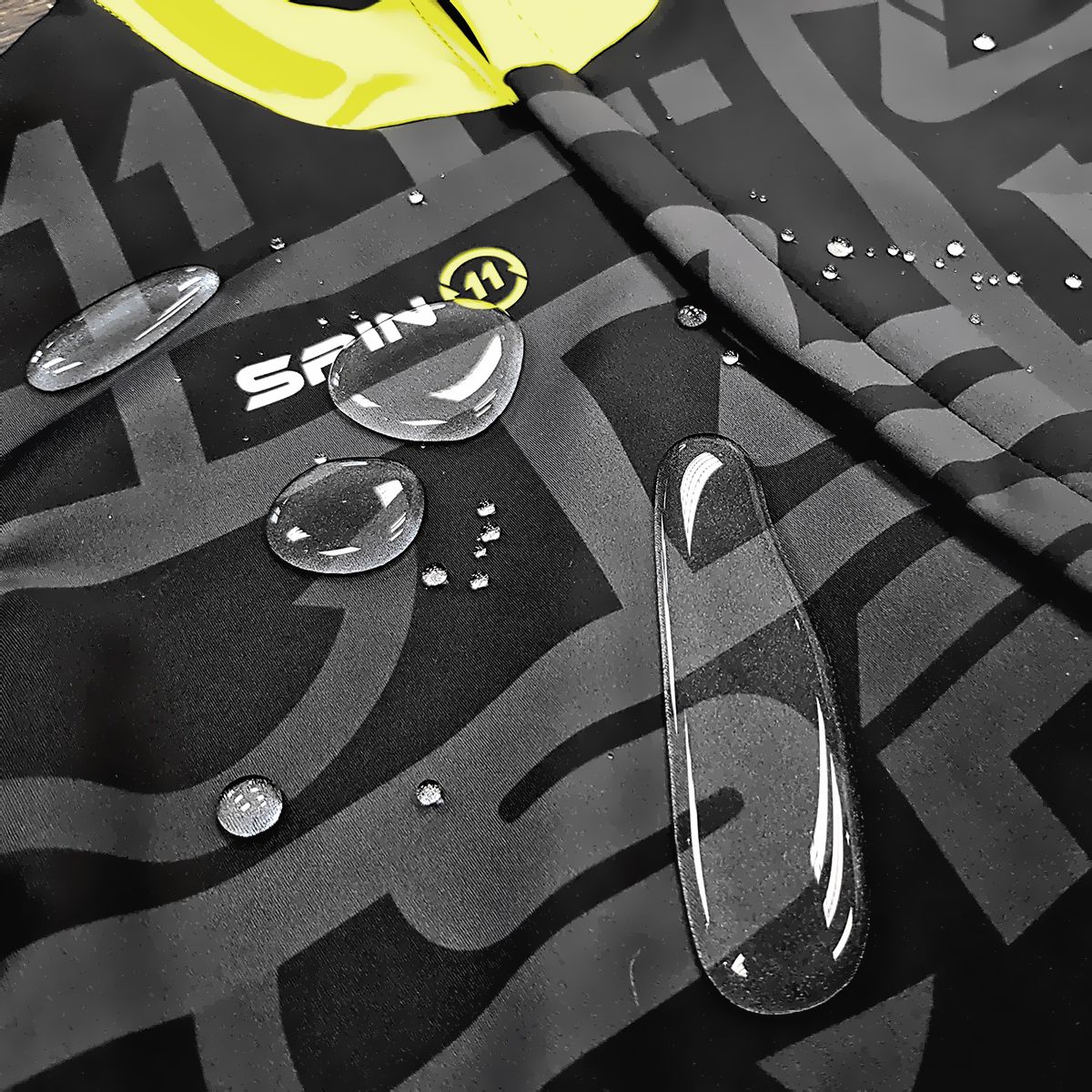 Do not forget about your head. Just because you are wearing a helmet does not mean your head will be kept warm. Road helmets these days are designed for maximum air cooling, which is great for summer and they look cool but no help in winter. Mountain bike helmets tend to have a bit more coverage but they're still far from insulating. Use a thermal skull cap. Some even have ear sections or go old school traditional cyclists favourite, a team cycling cap with a peak. It will at least keep your head a little warmer.
We finally reach the last area where the chill could still creep in and leave you uncomfortable. The neck. A stretchy, lightweight tubular neck scarf can protect your neck from getting that dreaded draft. It also has a host of uses such as a scarf, face mask, balaclava, headband, beanie or bandana. The cheapest most versatile item you could ever have while out on your bike. 
So based on all this, layering up works in so many ways and i'm sure there are more that you have done that we haven't mentioned. Whether it's cycling to work or going on longer rides, what you wear will depend on what temperature it is, where you are riding and how long you will be cycling for. Layering is the total cycling clothing solution, suitable for all conditions. So invest in a few quality pieces of kit now and you'll be able to enjoy your bike all year round, not just for the summer.